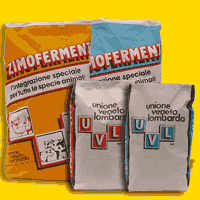 In recent years the breeding of veal calves has undergone a process of such intense development and specialization that a carefully controlled diet properly backed up by supplementary nutritional elements has become of utmost neccessity. A correct diet is the most important factor. Our Company. UVL SpA, is one of leaders in the animal premix field for quite a number of years. UVL SpA has created the product ZIMOFERMENT. It has been developed to specifically assist the digestive functions of the Calf, improving assimilation of feed nutrients ZIMOFERMENT functions on the basis of the actions of a number of "PROBIOTICS" or "BENEFICIAL" organisms obtained from specific inocules cultivated in a special patented Broth medium. The result is a highly technological product, capable of activating and strengthening metabolic processes. The unique feature of ZIMOFERMENT is the exclusive variety of probiotic strains contained in the basic product-composition. Some of these are aimed at reinforcing organic metabolism, others have a probiotic effect along the entire gastro-intestincal tract. ZIMOFERMENT is activated as soon as it comes in contact with the first saliva secretions and continues to function in the rumen and gut. ZIMOFERMENT stimulates the organism in the breaking down of feed nutrients, improving greatly the ability to digest and assimilate. The pronlonged action of ZIMOFERMENT stabilizes fermentation processes, regulating and correcting imbalances. The result can be summarized as follows:

IMPROVING QUALITY AND COLOUR OF MEAT
The result of the specific action of ZIMOFERMENT on iron intake by the intestine and an increase in the Calf's resistance to anemia.
IMPROVING GROWTH RATE
This is the result of the suppression of subclinical diseases and stress-reducing properties of the preparation.
IMPROVING THE USE OF FEED SUBSTANCES
This is evidenced by the increased in effeciency of the digestive system and better regulated fermentation in the gut: reduction in colic and stypsis.
IMPROVING HEALTH & WELL-BEING
Evidence of this is in the increase of the animal's resistance to diseases and improved activation of immunity responses. Reduced need for chemotherapy.
DETOXICATING AND HEPATO-PROTECTIVE FUNCTION
The high biological value of the proteins and amino acids protects the liver with the activation of the functioning of the organ.