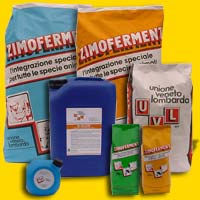 The breeding of Birds for business activities has experienced in the last years such an evolution and specialization to require a careful nutrition supported by an adequate feed supplements. A correct nutrition therefore is of the utmost importance. Our Company the U.V.L. S.p.A., for years leader in the field of Zootechnical Pre-Mix has created the Brand ZIMOFERENT. ZIMOFERMENT is an innovative product created in order to improve the nutritional effeciency of Birds by acting in the digestion and assimilation of feed. ZIMOFERMENT operates by acting upon some PROBIOTICS obtained from the production of specific inocules in broth culture which is U.V.L. exclusive and patent-protected. The result is a higly technological product able to activate and strengthen the metabolic processes. The pecularity of ZIMOFERMENT is the multiple and exclusive variety of probiotics present in the base formula. Some probiotics are aimed at strengthening the organic metabolism, others carry out their probiotic action along the gastro-intestinal tract. ZIMOFERMENT is activated on contact with the first saliva secretions and continues its action in stomach and intestine. ZIMOFERMENT stimulates the organism in the disgregation and assumption of nutritional substances thereby improving digestion and assimilation. The long lasting action of ZIMOFERMENT balances all fermentation activities by regulating and compensating eventual un-balances. The results obtained can therefore be summarized as follows:

IMPROVEMENT OF GORWTH RATE
This is the result of the supression of subclinical infections and the anti-stress effects. Less mortality.
IMPROVEMENT OF FEED UTILIZATION
This process increases the effeciency of digestive systems and regulates un-checked fermentation: resulting in the lowering of conversion rate, and in the improvement of assimilation.
IMPROVEMENT OF QUALITY AND COLOR OF MEAT
This means the increase of the ratio between muscle weight and scheleton weight and, based on same time factor, more slaughter weight is achieved.
IMPROVEMENT OF THE GENERAL WELL-BEING OF THE ANIMAL
This is a factor which shows increased resistance to deseases and simultaneous activiation of immune responses which translates into less need for drug-therapies.
ECOLOGICAL FUNCTIONS
Due to more compact ejections because of less presence of un-digested nutritional elements and metabolites, among which uric acid as well as less development of heavy gasses.
BETTER PERFORMANCE OF OVARY PRODUCTIONS
Due to the slowing down of production-curve drop and less number of broken eggs. More well-being of the egg.