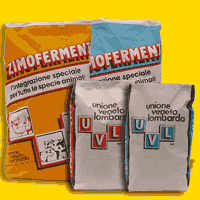 It is only through a diet adopted to satisfy the nutritional needs of the organism that it is possible to take full advantage of the growing and fattening capabilities of an animal and to bring out the full potential of its genetic legacy. It follows from this that the profit margins of a cattle breeder strictly depend on production costs and the ability to transfrom silage and feed into meat. The basic task of the Breeder is to develop the animals ability to make the fullest use of feed in order to produce the highest possible yield from the same quantities of silage and feed processed by agricultural producers and sold on the market. It is important to realize the benefits that can be gained through rational integration of feed. ZIMOFERMENT additive is a natural , biological additive which, through selection and stimulation action on the microflora in the pre-stomach, regulates and balances fermentation in the rumen, accelerating and strengthening the fixation of free nitrogen compounds in new bacterial proteins and at the same time improving ASSIMILATION of all the main nutrient elements in the diet. The product also INHIBITS IRREGULAR FERMENTATION in the rumen, therby reducing the possibility of toxic or sub-toxic disorders caused by dietary factors. On the basis of above described actions, the following results have been obtained:

INCREASED GROWTH OF ANIMALS
Animals fed on ZIMOFERMENT have been found to grow more by approx.4-6%.
INCREASED CONVERSION RATE
As animals gain weight they require less and less feed. This reduction of feed consumption has been quantified at 10%.
PREVENTION AND TREATMENTS OF HOOF DISORDERS
Generally toxic disorders , aggravated by environmental factors are usually improved by the use of ZIMOFERMENT.
AUXINIC AND HEPATO PROTECTIVE ACTION
Through the combined action of yeasts, amino acids, and natural vitamins in group B.
BETTER QUALITY OF MEAT
Evidenced by the consistency of the meat and by its colour which are characteristics preferred by consumers.
ZIMOFERMENT IS THEREFORE THE PERFECT NUTRITIONAL SUPPLEMENT FOR BEEF CATTLE.